DIGITAL COMPOSITING FOR FILM AND VIDEO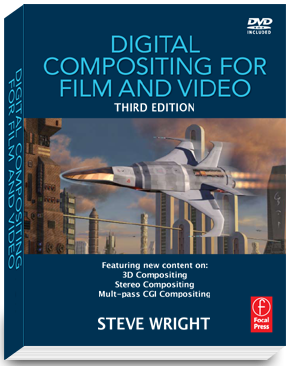 Digital Compositing for Film and Video now in its 3rd edition has become a steady machine-side companion for even the most serious compositors because it contains encyclopedic knowledge of digital compositing plus it addresses real world production problems and provides their solutions. It comes complete with a DVD containing almost 4 GBytes of project media that go along with 80 carefully crafted production exercises.
High on the reading list of top visual effects studios such as ILM and used as a textbook in colleges and training institutions, this book not only teaches the theory and practice of digital compositing but does it with constant eye towards practical real-world production problems. Filled with tips and tricks for creating photorealistic visual effects, it is thoroughly grounded in the real world of visual effects. The author's exceptionally readable style really keeps the information flowing without getting lost in technical details.
The author, Steve Wright, is a senior visual effects veteran with over 20 years in the chair compositing visual effects for over 70 feature films. His film credits include Night at the Museum 2, Shutter Island, Solaris, Traffic, Air Force One, and many more. Since 2005 he has taken on the role of master trainer for compositing and Nuke and has to date taught well over 600 digital artists in over 25 visual effects studios around the world. He also has on-line workshops, tutorials, webinars, as well as location based classes.
If you are looking for a more introductory book on digital compositing then check out Steve's other book "Compositing Visual Effects: Essentials for Aspiring Artists".
"The Compositor's Bible"

-Jeffrey Jasper
VFX Supervisor
New Deal Studios