COMPOSITING VISUAL EFFECTS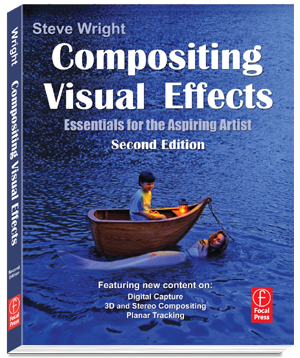 Compositing Visual Effects is an introductory book on digital compositing for visual effects that is designed specifically for newcomers to the industry. This book is digital compositing lite, designed to be fun and easy to read, yet full of essential concepts and terminology for those new to the industry, students looking to understand what role compositing plays in visual effects, or production professionals like directors and DP's that just want to understand what digital compositing is all about because it affects their productions. Eminently readable and highly informative.
The recently released second edition has been updated to include chapters on 3D and stereo compositing, planar tracking and digital capture as well as an in-depth look at how a VFX shot is produced from its inception to getting the shot's final approval from the VFX supervisor. You can now have a look inside the world of VFX with interviews from the film's Director, the cinematographer, the 3D Animator and the VFX Compositor.

The author, Steve Wright, is a senior visual effects veteran with over 20 years in the chair compositing visual effects for over 70 feature films. His film credits include Night at the Museum 2, Shutter Island, Solaris, Traffic, Air Force One, and many more. Since 2005 he has taken on the role of master trainer for compositing and Nuke and has to date taught well over 600 digital artists in over 25 visual effects studios around the world. He also has on-line workshops, tutorials, webinars, as well as location based classes.
If you are looking for a more advanced book on digital compositing then check out Steve's other book "Digital Compositing for Film and Video".
Link to resource material has changed: Can't find the link to the Companion Website for Compositing Visual Effects: Essentials for the Aspiring Artist? You are not alone!

Taylor and Francis has moved the web site and their re-direct does not work. You can find the book's resources here:

http://www.routledge.com/cw/wright-9780240817811/p/resources/
 
 
 

"An Invaluable Resource"

-Steven M. Blasini
VFX Supervisor
BFX Imageworks